Regular price
Sale price
$17.00 USD
Unit price
per
Sale
Out of Stock
ETA: Date TBA
Three pewter metal miniatures of the heroes of Achtung! Cthulhu in 28mm scale:
Captain Eric 'Badger' Harris and his anti-mythos steam gun cooked up by the chaps at Section M, French Resistance agent Ariane Dubois with the terrifying creature that let her live so it might feed on Nazi souls and Corporal Akhee 'The Eye' Singh who utters a few words and fights like an ancient hero as 'the eye' slowly opens - though each time, he knows that if the eye stays open, the world will end. Ariane can have her creature removed to create a normal investigator.
Read the story of the Achtung! Cthulhu heroes in our free download: Tales of the Crucible
Capt.Harris: ""The Commandos scaled the incline quickly. The strange weeds that chocked the ground didn't seem to bother them at all. Their leader a dapper man with a peppered moustache, seemed quite jovial. That is, until the swarm began to rise from the mound. Then with a grim steel in his eyes, he methodically boiled them in their armoured hides with his hissing steam gun.""
Ariane Dubois: ""As the creature drew close, I saw her. Petite, almost childlike it seemed. And yet, within her eyes, a steely hardness that suggested that they had witnessed past horrors. As the batlike imp that bestrode her shoulder gibbered with glee, she drew her Mauser and fired thrice. In a moment, the fiend that hunted me lay dead.""
Akhee Singh: ""The creatures were interrupted by a blinding light, which filled the dank chamger. As it faded, our eyes adjusted to see a bearded man standing in the cavern mouth. The first creature rushed towards him, claws outstretched, the the lone figured seemed to expect this attack and gracefully sidestepped, slicing down with a wickedly sharp Kirpan. The creature's arm was severed neatly as he advanced on the gibbering horde, intoning a prayer in a language we scarce knew.""
Achtung! Cthulhu miniatures are scaled to sit alongside other popular World War Two miniatures ranges. Comes with 3 x 30mm round display bases with raised lip, some assembly maybe required.
For use with the Achtung! Chtulhu RPG or our brand new new Achtung! Cthulhu Skirmish game - where these hero characters can have a decisive impact on the battlefield!
Miniature is unpainted
View full details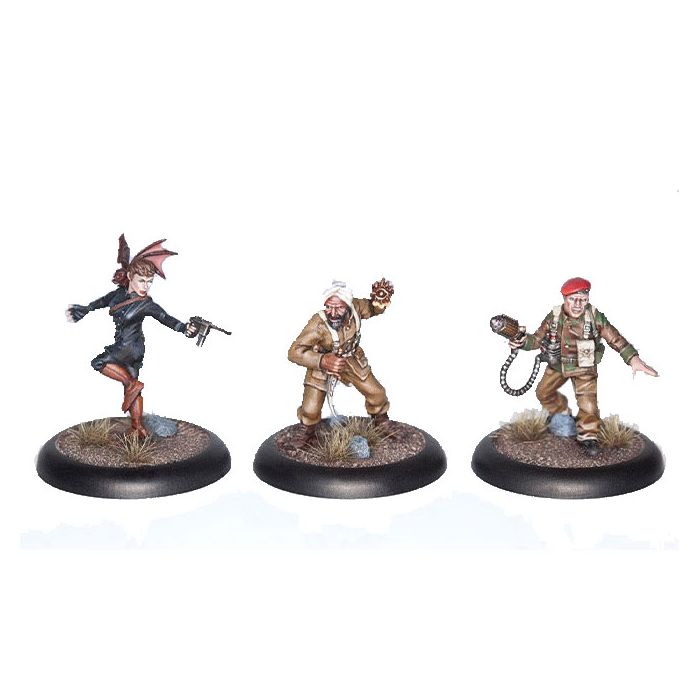 Recently Viewed
Regular price
Sale price
$17.00 USD
Unit price
per