Regular price
$160.55 USD
Regular price
$169.00 USD
Sale price
$160.55 USD
Unit price
per
Holiday Sale 5%
Out of Stock
Beast Kingdom Dynamic Action Heroes Pirates of the Caribbean Captain Jack Sparrow
The zaniest pirate to sail the seven seas is ready to take over a desk near you! 
Starting off as a Disneyland ride, The Pirates of The Caribbean series has wowed the world with its crazy sea faring escapades with captain Jack Sparrow at the helm since the first movie! 
Bringing an exciting out of this world personality to the character Johnny Depp has come to personify Jack Sparrow with an unhinged yet clever performance. With a unique personality also comes a unique character design that has come to be as recognizable as some of the most famous characters in movie history. 
Beast Kingdom's D.A.H (Dynamic 8ction Heroes) series incorporates a real to life design at a 1/9 scale, and with highly articulable joints the figures are perfect to recreate movie magic!
Taking the Pirates of The Caribbean series and Jack Sparrow, collectors are able to recreate some of the classic sea faring adventures at home! 
Including 28 joints, a selection of high end material including real cloth for clothing as well as an immense amount of focus on details, the action figure is ready to take on any challenge brought forward by the dastardly pirates!
The D.A.H focus on fine details also means the figure set includes a number of exciting accessories such as a total of 4 weapons, a pistol, long sword and a dagger as well as a telescope, a bottle with the infamous Black Pearl inside, and the famous compass for Jack to find his very own treasure. 
So make sure you take home Captain Jack Sparrow and have your very own sea adventures today! Savvy?! 
Special Features
1/9 scale action figure and fully articulable perfect for a variety of classic poses.
A faithful reproduction, with a realistic head sculpture and exquisite focus on details
A rich set of accessories including pistols, telescope, compass, boat in a bottle, sword, and more.
Four pairs of replaceable hands including:
One(1) pair of relaxed palms
Two(2) Pair of palms for holding weapons
One(1) pair of palms showing iconic gesture
Includes exclusive stand
View full details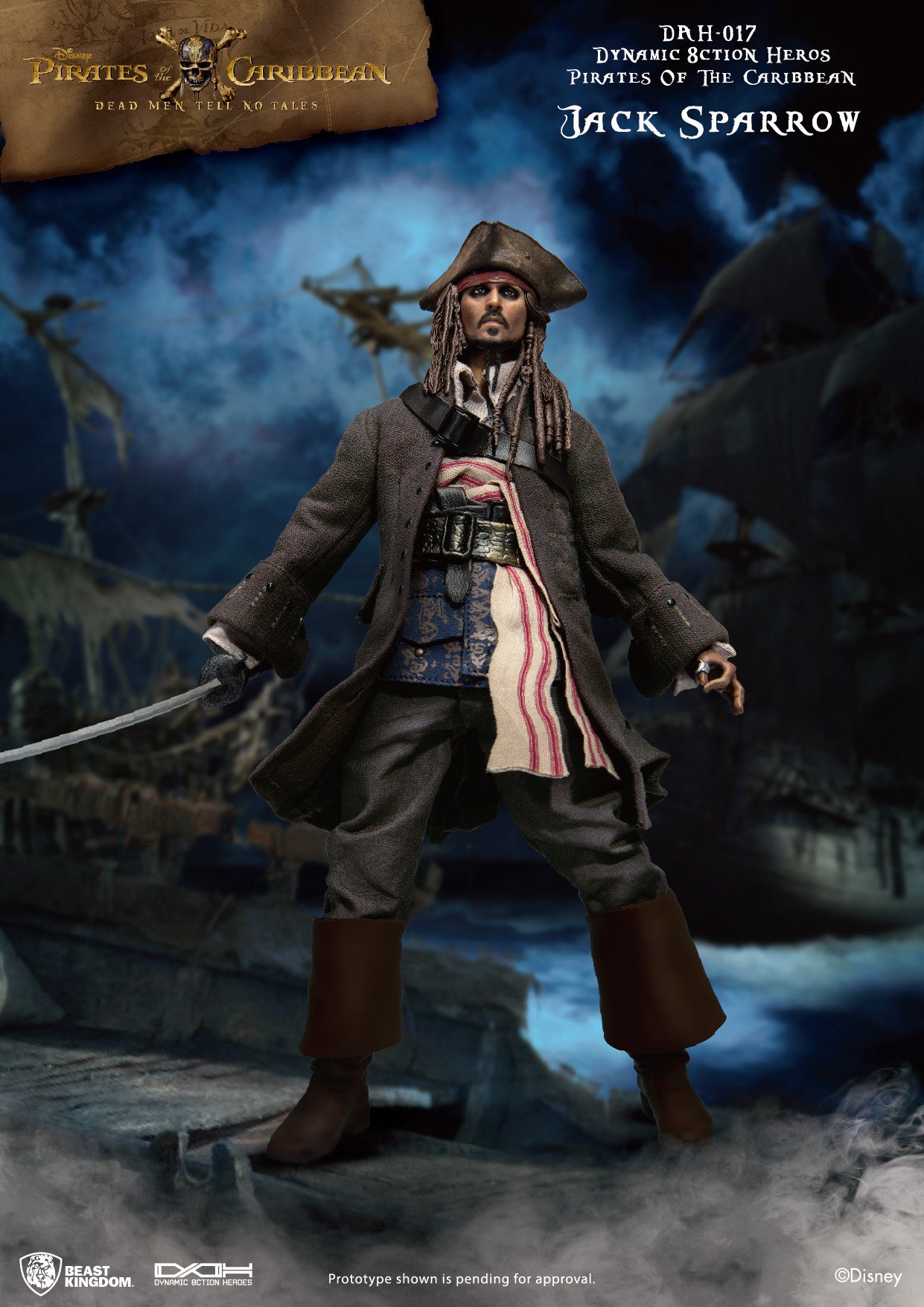 Recently Viewed
Regular price
$160.55 USD
Regular price
$169.00 USD
Sale price
$160.55 USD
Unit price
per