Regular price
Sale price
$25.00 USD
Unit price
per
Sale
Out of Stock
ETA: Date TBA
Fortune, Momentum, and Doom are the primary in-game resources used in Conan: Adventures in an Age Undreamed Of. This action-packed set contains a total of 54 cards including all three categories, with descriptions, and quotes from Robert E. Howard's tales to inspire players and gamemasters alike! Use this deck to make the spending of your Fortune, Momentum, and Doom easier and to inspire memorable adventures at your gaming table!
A total of 54 full colour cards including an instructions card, 6 Fortune Cards, 23 Momentum Cards and 24 Doom cards, easily identifiable by their phoenix, lion, and snake backs.
6 Fortune Cards providing special effects players can use when spending their Fortune, 23 Momentum Cards with evocative and powerful Momentum spends.
Doom cards gamemasters can prepare in advance to unleash unique effects during the adventure! These also include quick rules references on adding Doom for both players and the gamemaster.
Packaged in a tuckbox that makes for easy carrying to your gaming table.
View full details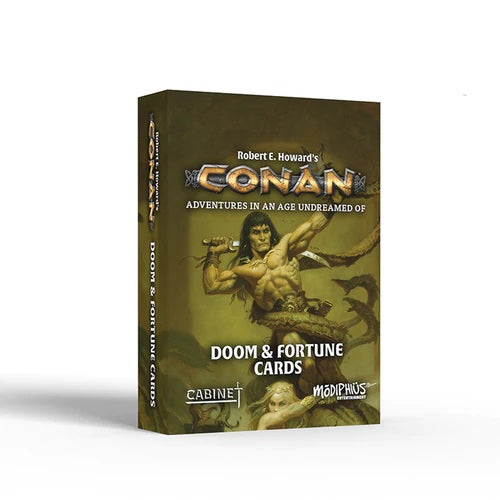 Recently Viewed
Regular price
Sale price
$25.00 USD
Unit price
per