Regular price
$125.00 USD
Regular price
Sale price
$125.00 USD
Unit price
per
Sale
Out of Stock
ETA: Date TBA
The red dragon surveys its domain from up high in its mountain lair. A fiery, winged tyrant that plunders and destroys all before it on its path to enrich its hoard. Will the menace continue to rampage unabated, or will a group of brave adventurers successfully slay the foul beast? Find out with D&D Icons of the Realms: Adventure in a Box - Red Dragon's Lair! 
This box has everything you'll need to build your red dragon-themed adventure, including four puzzle-cut battle maps to lay out the foundations of your perilous volcanic encounter, five different lair terrain dressings, and six pre-painted miniatures depicting a range of draconic enemies led by a large fearsome red dragon. 
Whether your next clash with a red dragon is a brief encounter or a drawn-out scenario, the Adventure in a Box - Red Dragon's Lair is your place to start.

WHAT'S INCLUDED:
x1 Young Red Dragon

x2 Kobold Commoners

x1 Kobold Underling

x1 Kobold Dragonshield

x1 Winged Kobold

x1 Treasure Pile

x1 Dragon Egg Clutch

x2 Stalagmite Singles

x2 Stalagmite Doubles

x2 Stalagmite Pillars

x1 Caldera Map (35in x 35in)

x1 Kobold Den Map (12in x 13in)

x1 Pillared Hall Map (12in x 24in)

x1 Hoard Room Map (20in x 15in)
View full details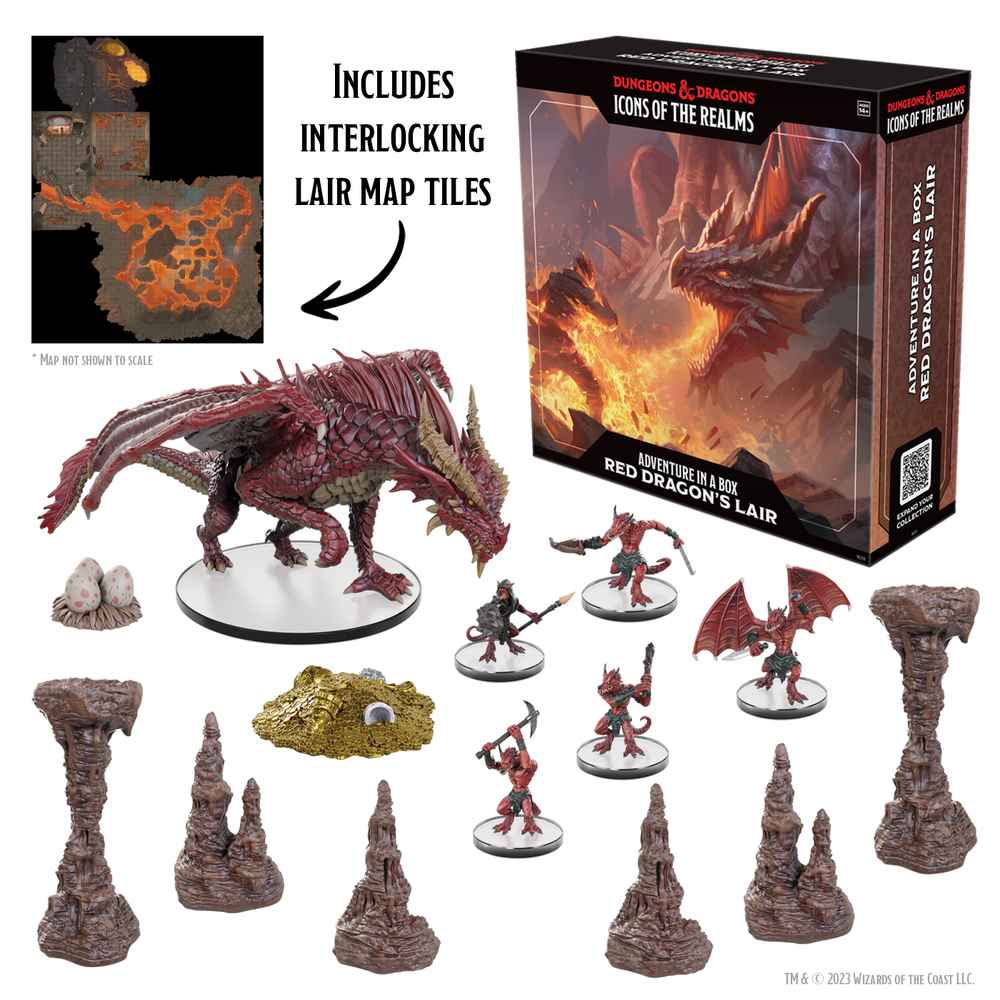 Recently Viewed
Regular price
$125.00 USD
Regular price
Sale price
$125.00 USD
Unit price
per