Regular price
$74.00 USD
Sale price
$71.00 USD
Unit price
per
Sale
Out of Stock
Jujutsu Kaisen 2023 Bundle - 5 POP! Vinyls
ETA: 31 Aug 2023
Jujutsu Kaisen - Maki Zen'in Pop! Vinyl
Jujutsu Kaisen - Panda Pop! Vinyl
Jujutsu Kaisen - Toge Inumaki (1 in 6 chance of Chase) Pop! Vinyl
Jujutsu Kaisen - Suguru Geto Pop!
Jujutsu Kaisen - Mai Zen'in Pop! Vinyl


Embark on a thrilling journey into the supernatural world of Jujutsu Kaisen with the Jujutsu Kaisen 2023 Bundle - 5 POP! Vinyls, available exclusively at Ozzie Collectables! This discounted bundle deal not only offers incredible value but also includes free Pop Protectors to ensure the protection of your cherished collectibles.

The Jujutsu Kaisen 2023 Bundle showcases five captivating characters from the beloved anime and manga series. First up is the fierce Jujutsu Sorcerer, Maki Zen'in. Captured in her dynamic pose, the Jujutsu Kaisen - Maki Zen'in Pop! Vinyl perfectly embodies her unwavering determination and combat prowess.

Joining the bundle is the adorable yet powerful Panda, a fan-favourite among Jujutsu Kaisen enthusiasts. The Jujutsu Kaisen - Panda Pop! Vinyl captures the essence of this sentient cursed spirit turned ally, making it a delightful addition to any collection.

Prepare for a dose of mystery with the Jujutsu Kaisen - Toge Inumaki (1 in 6 chance of Chase) Pop! Vinyl. With a rare 1 in 6 chance of receiving the exclusive Chase variant, this figure of Toge Inumaki comes with unique poses or additional accessories, adding an element of surprise and collectibility to your bundle.

Next up is the enigmatic and manipulative sorcerer, Suguru Geto. The Jujutsu Kaisen - Suguru Geto Pop! Vinyl captures his cunning demeanor and dark charisma, making it an intriguing choice for collectors seeking to add depth to their Jujutsu Kaisen display.

Completing the bundle is the Jujutsu Sorcerer, Mai Zen'in. The Jujutsu Kaisen - Mai Zen'in Pop! Vinyl perfectly showcases her elegant yet formidable presence, capturing her spirit and strength.

Don't miss your chance to own the Jujutsu Kaisen 2023 Bundle - 5 POP! Vinyls, a treasure trove of beloved characters from this captivating series. Dive into the mystical realm of Jujutsu Kaisen and let these figures bring your favourite moments to life. Get your bundle today at Ozzie Collectables and elevate your Jujutsu Kaisen collection to new heights!
View full details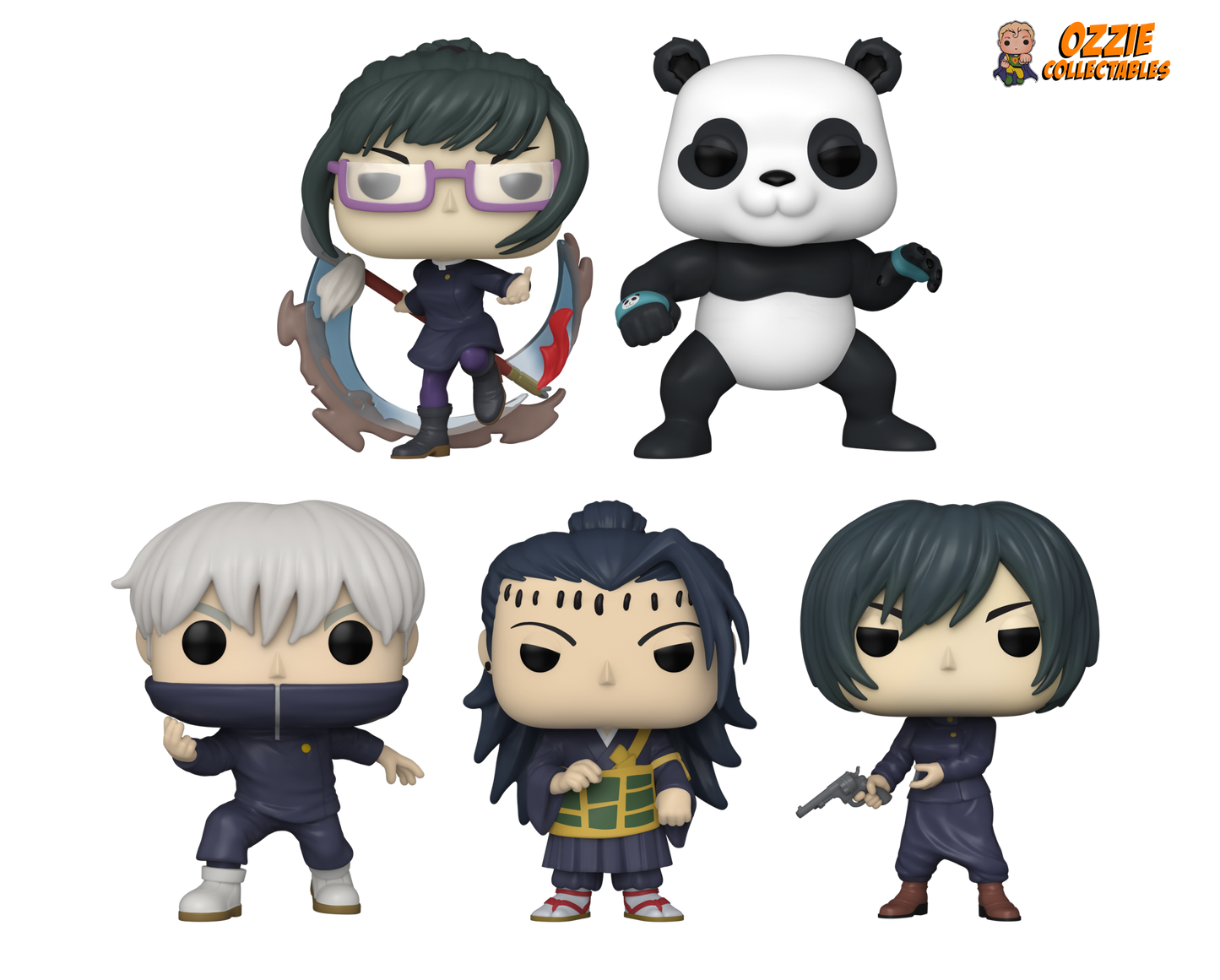 Recently Viewed
Regular price
$74.00 USD
Sale price
$71.00 USD
Unit price
per