Regular price
$240.00 USD
Regular price
Sale price
$240.00 USD
Unit price
per
Sale
Out of Stock
LankyBox Giant Foxy Mystery Box – Brand New Foxy Mystery Box with 10 Exciting Toys to Discover inside, Officially Licensed LankyBox Merch.
OFFICIALLY LICENSED LANKYBOX MERCH: LankyBox is brought to you by the dynamic duo, Justin and Adam, along with their adorable cast of animated characters
THE ULTIMATE UNBOXING EXPERIENCE: There are so many surprise toys to unbox the fun never stops with LankyBox! Enjoy the thrill of unboxing and discovering awesome collectibles!
NEW FOXY EDITION: Say hello to your favorite Foxy friend with the all-new Giant Foxy Mystery Box from LankyBox!
EXCLUSIVE NEW LANKYBOX TOYS: This Giant Foxy blind box contains 10 awesome toys and accessories that will keep the fun alive off screen. Contents include mini mystery figures, a squishy, mystery plush toy and more – all exclusive to this incredible LankyBox toy set.
ROLE PLAY AS FOXY: The giant Foxy toy box is made from soft plush material, and can be worn as a fun character mask – complete with adorable ears so that you can role-play as Foxy!
LankyBox, the most highly viewed YouTube gaming duo in the world, features stars Justin and Adam, along with their cast of animated characters including Boxy, Foxy, and Rocky. They create high-energy, laugh-out-loud videos including challenges, gaming and shorts.
For LankyBox fans who can't get enough of the wildly popular YouTube channel, the all-new Giant Foxy Mystery Box is here! The set is filled with new awesome collectibles, making it the ultimate surprise unboxing experience.
It contains:
• Figures
• A squishy
• Spinner
• Mystery plush
• Whoopie cushion
• Stickers
The plush cover comes off the case and doubles as a wearable mask, so kids can role play as the fan favorite character Foxy! All of the contents capture the high energy and creative charisma of the LankyBox videos.
This Giant Foxy Mystery Box is officially licensed LankyBox merch and is sure to be a big hit with boys and girls worldwide.
Ages 3+
This product listing is for 4 items.
View full details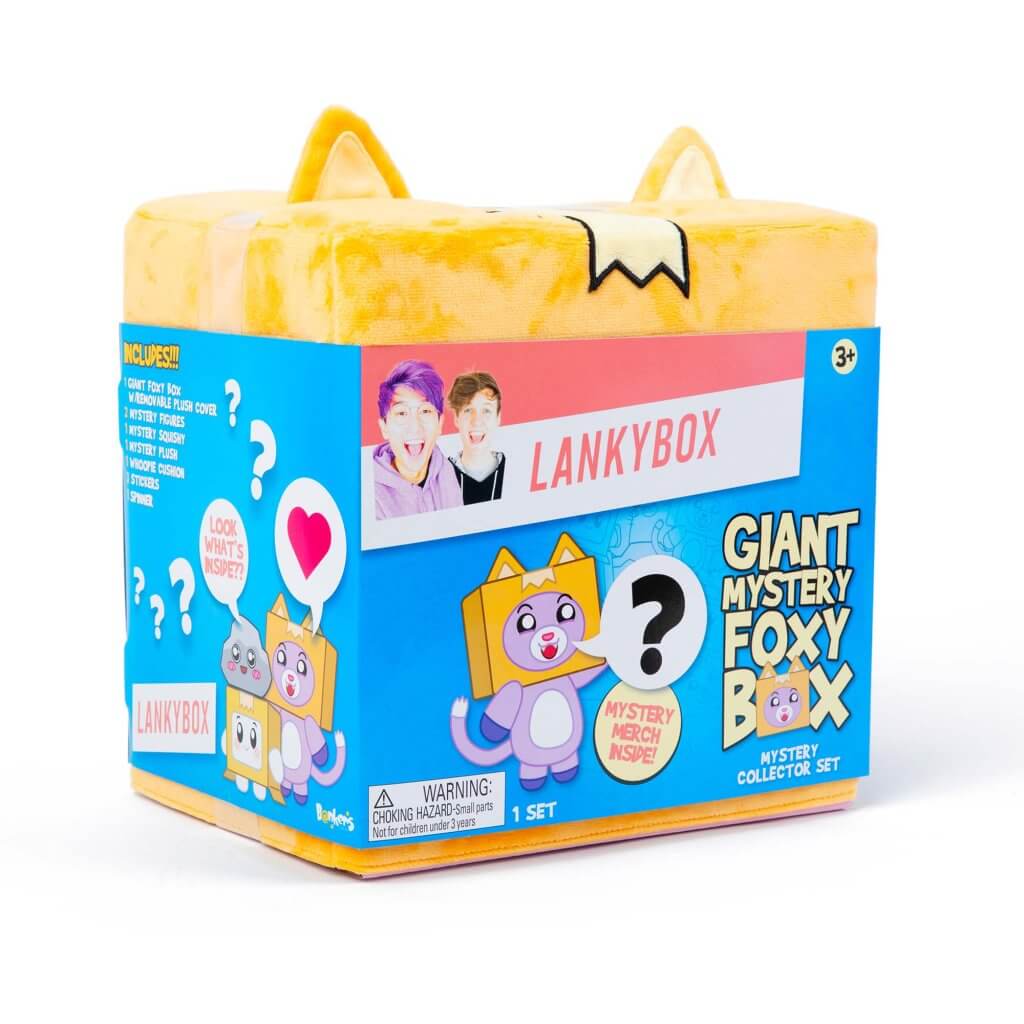 Recently Viewed
Regular price
$240.00 USD
Regular price
Sale price
$240.00 USD
Unit price
per