Regular price
$29.00 USD
Sale price
$27.55 USD
Unit price
per
Holiday Sale 5%
Out of Stock
Who thinks they're the ultimate cheater? The Monopoly Cheaters Edition board game for kids and families features a wild twist on classic Monopoly gameplay because only the best cheater will win! With so many ways to cheat, anyone can end up the winner! Use Cheat cards to get ahead fast -- and try to catch others cheating -- while buying properties, collecting rent, and bringing in the cash. Caught cheating? Go to Jail and play "behind bars" while wearing the Jail Glasses. Get bonuses for catching cheaters, but pay up for false accusations. Looking for gifts for family and friends? Look no further! The Monopoly Cheaters game for ages 8 and up is a great choice for a family game night filled with fun and excitement.
The Hasbro, Hasbro Gaming, Parker Brothers, and Monopoly names and logos, the distinctive design of the gameboard, the four corner squares, the Mr. Monopoly name, and character, as well as each of the distinctive elements of the board, and playing pieces are trademarks of Hasbro for its property trading game and game equipment.
Includes gameboard, Jail Glasses, 6 tokens, 22 Title Deed cards, 14 Chance cards, 24 Cheat cards, 16 Hotels, 6 Cheat card stands, 2 Dice, Money Pack, and game guide.
Brand: Hasbro
Release Date: 1 Jan 2023
Product Type: Board & Card Games
Sub Category: Board Game
Series: Monopoly
Expansion: No
Exclusive: No
View full details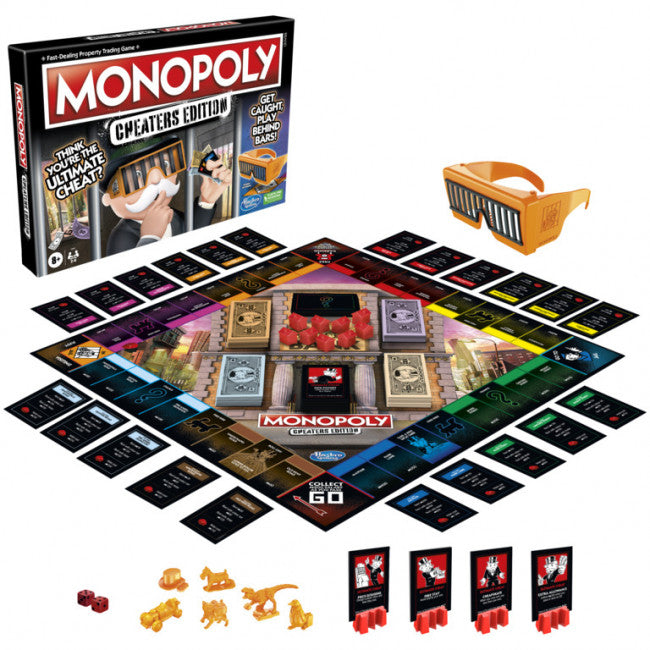 Recently Viewed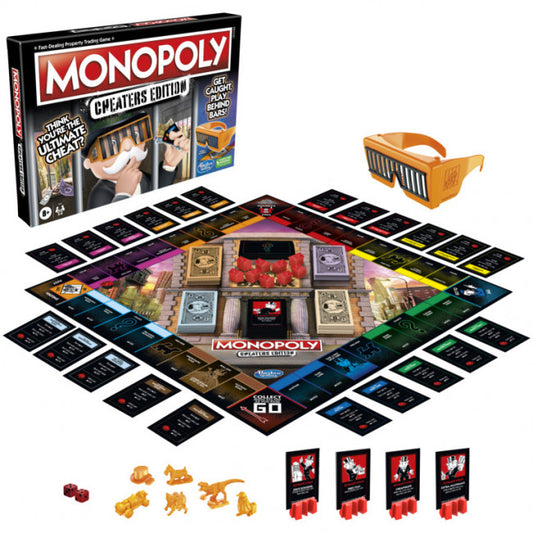 Regular price
$29.00 USD
Sale price
$27.55 USD
Unit price
per