Regular price
Sale price
$29.00 USD
Unit price
per
Sale
Out of Stock
Select a favorite Monopoly token, place it on Go and roll the dice to own it all! This edition of the family board game includes 16 Community Chest cards voted on by fans…did your favorite make it in? This edition features classic Monopoly gameplay: it's all about buying, selling, and trading properties to win. Chance or Community cards can be a game changer. Will they make a player richer -- or send someone to Jail? Looking for games for Family Game Night? The Monopoly game is a Family Game Night favorite, and it's a fun indoor activity for kids.

FAST-DEALING PROPERTY TRADING GAME: It's a Family Game Night staple! Players buy, sell, dream and scheme their way to riches with the Monopoly board game

COMMUNITY CHEST CARDS: Fans voted for cards they'd like to see, and the votes are in! This edition includes 16 winning cards, each reflecting some great things about being part of a community

PLAYERS BUY, SELL AND TRADE TO WIN: Players buy out neighborhoods, sell properties, charge rent, and grow an empire in the Monopoly Game for adults and kids age 8 and up

BUILD HOUSES AND HOTELS: Love that feeling when an opponent lands on an owned property? In this family board game, the more players build, the more rent money they can collect. Cha-ching

WHAT'S YOUR TOKEN?: Tokens include Rubber Ducky, T-Rex, Penguin, Hazel, Scottie, Racecar, Hat, and Battleship. It's a great game for Family Game Night, or anytime indoor fun

Includes gameboard, 8 Tokens, 28 Title Deed Cards, 16 Chance Cards, 16 Community Chest Cards, 32 Houses, 12 Hotels, 2 Dice, Money Pack and Game Guide.
Brand: Hasbro
Product Type: Board & Card Games
Sub Category: Board Game
Series: Monopoly
Expansion: No
Exclusive: No
Age: 8+
Players: 2-8
Play Time: 60 - 180 minutes
Product Category: Fun and Games
View full details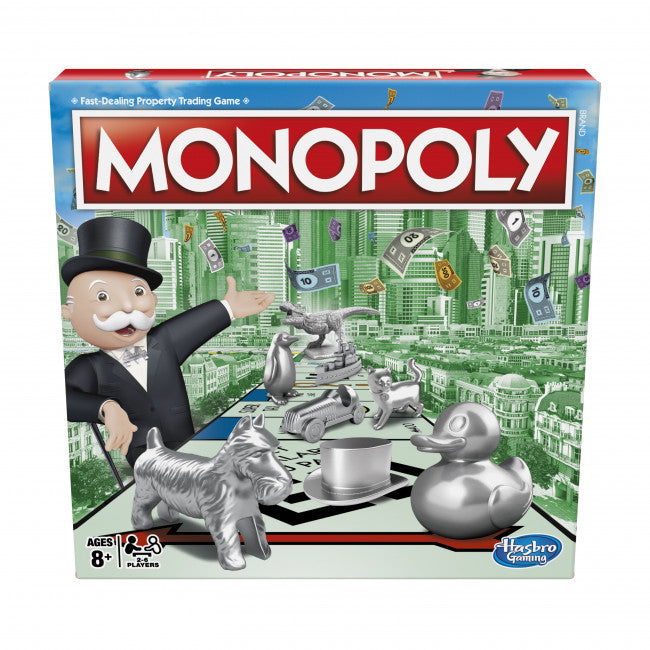 Recently Viewed
Regular price
Sale price
$29.00 USD
Unit price
per