Regular price
$258.00 USD
Regular price
Sale price
$258.00 USD
Unit price
per
Sale
Out of Stock
Release Date: Aug 4, 2023
Craft a Commander collection that turns heads with some of the greatest cards to grace the Commander format spiced up with stunning special treatments. Every Collector Booster contains 1 Foil-Etched card, 5 Borderless cards (1 of which may be Textured Foil), an Extended-Art card of rarity Rare or higher from one of the Commander Masters Commander Decks, and a total of 9–11 Traditional Foil cards to really make your decks shine. No matter how the game ends, you're guaranteed to look like a winner.
Each Commander Masters Collector Booster contains 15 Magic: The Gathering cards and 1 Traditional Foil double-sided token, with a combination of 5 cards of rarity Rare or higher and 2–5 Uncommon, 4–7 Common, and 1 Land cards.
Contents:
First Masters set for Commander—Masters boosters are super-charged packs full of the finest Magic: The Gathering reprints; Commander Masters brings the first Masters packs specifically designed for Commander, Magic's most popular format
Get the best of the best—Collector Boosters are a shortcut to the coolest cards in an already extraordinary set, with packs full of Rare cards, shiny foil cards, and special alt-art, alt-frame cards
Collector booster-exclusive treatments—Collector Boosters are the only boosters where you'll find Extended-Art, Foil-Etched, and possible Textured Foil treatment cards 5 Borderless cards in every pack—every pack contains
5 Borderless cards, 1 of which may be a Textured Foil Borderless Rare or Mythic Rare card destined for a starring role in your collection
Packed full of Rares & Foils—each booster contains a total of 9–11 Traditional Foil cards, 1 Foil-Etched card, a possible Textured Foil Borderless card (1 in 25% of packs), and a total of 5 cards of rarity Rare or higher
Contents—1 Commander Masters Collector Booster containing 15 MTG cards and 1 foil token
Brand: Wizards of the Coast
Release Date: 4 Aug 2023
Product Type: Trading Cards
Series: Magic the Gathering
Expansion: No
Exclusive: No
Publish Year: 2023
This product listing is for 4 items.
View full details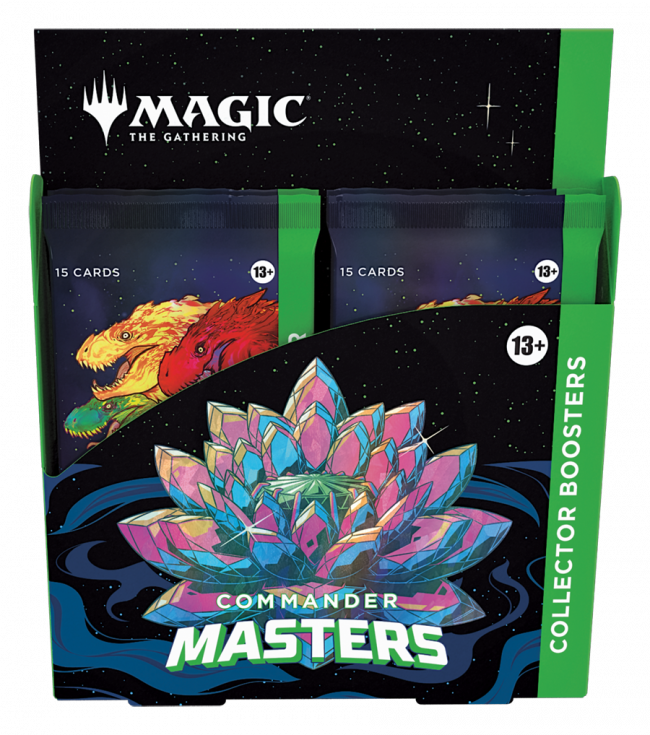 Recently Viewed
Regular price
$258.00 USD
Regular price
Sale price
$258.00 USD
Unit price
per