Regular price
Sale price
$50.00 USD
Unit price
per
Sale
Out of Stock
ETA: 2023-09-06 00:00:00
Reviving Kathmandu is a bidding and set collection game for 1-6 players. In the game, players are builders who travel to Nepal. They'll compete to earn the title of Most Respected Architect in Kathmandu.

Bid on construction materials (cards). Then collect those cards and use them to build the most prestigious Buddhas, Shrines, Stupas and Pagodas ("Monuments"). You'll score points for your monuments, for achieving special objectives, and for paying special attention to color. The architect who achieves the most points will win the game.

HOW TO PLAY
The game is played over 8 rounds. Each round has 3 phases: Bid, Collect, and Build. Players work through these 3 phases, in this order. Each phase is explained in greater detail in the rulebook. But, generally, players will:

- BID: Starting with the first player and continuing clockwise, each player must place 1 coin of their choice face-down onto one of the bid spots on the playmat. Each bid spot targets 2 cards within the same row or column.

- COLLECT: Players flip their coins and determine who won each card. Determine the winner for each card using this order:
The only bidder
Highest bidder
If tied, the player whose coin is closest to the card
If still tied, the player whose coin is on the long edge of the card
Then each player collects 2 cards total to their hands — taking from the Market and/or the red deck.
- BUILD: Players use as many cards as they want from their hands to build Monuments. To add to a Monument, slide an appropriate card under the previous one, revealing the section that continues the Monument. Once a Monument has all its required sections, it is "complete." Buddhas are considered complete immediately after they are built. When you complete a Monument, immediately score points for completing it
The game has 8 rounds. After every 4 rounds, each player will only have 1 coin left. When this happens, players either convert their last coin to points or buy 1 discarded card.
MISSIONS:
Players may complete various objectives for bonus points. Each Mission contains 4 objectives—to complete a Buddha, a Shrine, a Stupa, and/or a Pagoda with sections matching the color(s) shown on the Mission.
GAME END:
- Discard all cards left in your hands and discard piles.
- Score points for the topmost card of any incomplete Monuments.
- Score color bonuses (if any) for your completed Monument.
WINNING:
The player with the most points becomes the most well-respected architect, and therefore wins the game!
Reviving Kathmandu is the second game in the Lemery Games Globetrotter Game Series, after Chili Mafia.
—description from the publisher
View full details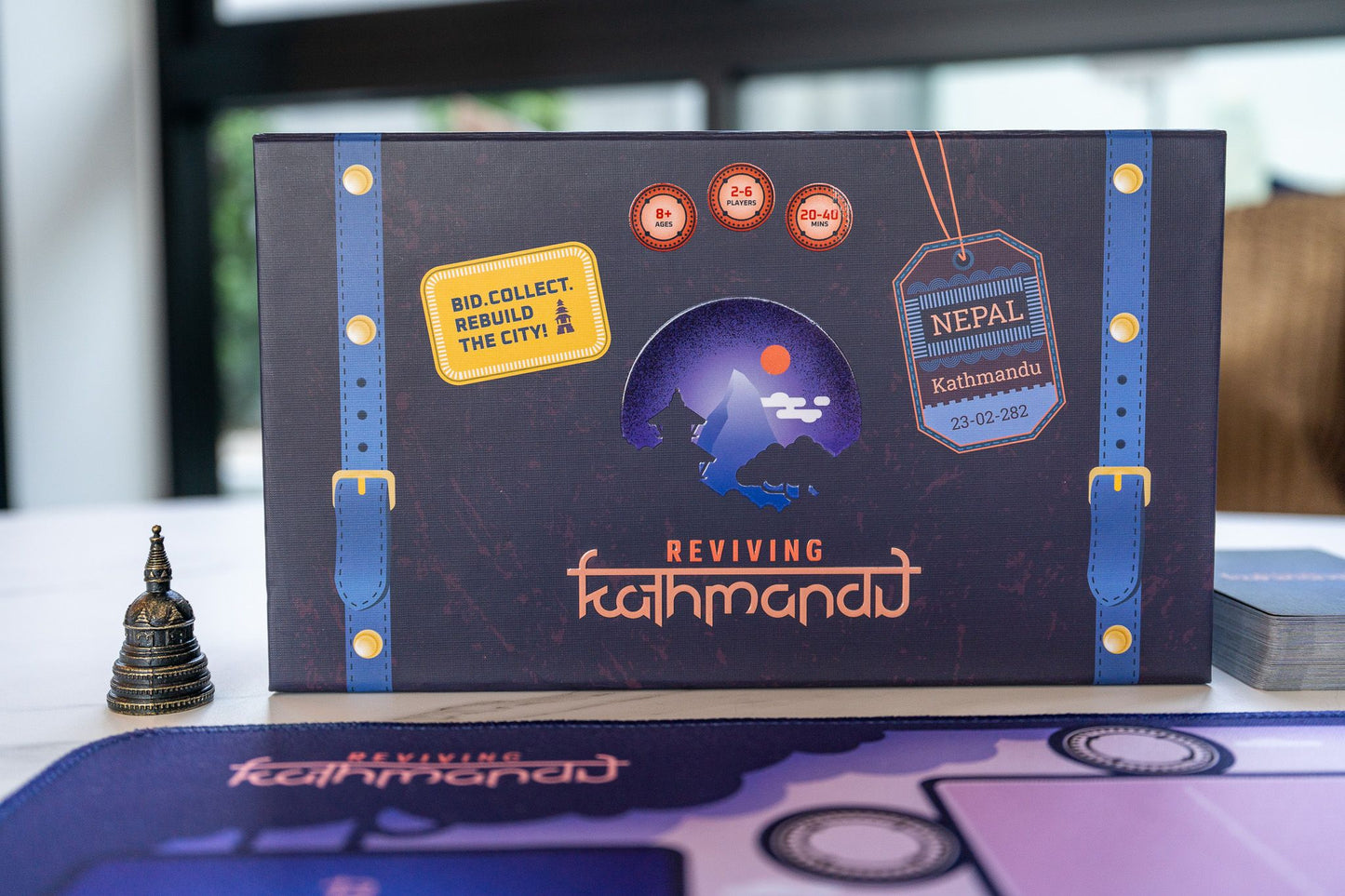 Recently Viewed
Regular price
Sale price
$50.00 USD
Unit price
per