Regular price
Sale price
$45.00 USD
Unit price
per
Sale
Out of Stock
ETA: Date TBA
Solar System Dice a set of specialty dice designed with after the majestic Solar System in which we all live.  Featuring a Sun, all 9 planets, our moon, and even an asteroid belt.  Solar System Dice are designed to be a more-than-complete 14-die set, including 2d4, 5 total d6, 1d8, 1d10, 1d%, 1d12, and 3 different sizes of d20!
Co-designed with care by our friends at Norse Foundy, each die features classic Greek & Medieval astronomy symbols for the high-numbers.
Made of high-impact resin, with the same casting process we invented for our original Halfsies Dice in 2013 that prevents air-bubbles from forming inside, Gate Keeper Games dice bear the honor of being the heaviest, densest, and most well-balanced resin dice … in the Solar System!
Let's take a look at each member of our Solar System in order, including it's style, size, and color.
Sun – d20. Three-color Essence dice – orange, yellow & more orange- a staggering 35mm
Mercury – d4. Super pearlized Alea Simplex dice – mercury silver – 22.5mm
Venus – d6. Two-color Essence dice – teal and mint – 16.5mm.
Earth – d6. Two-color swirl Sui Generis dice – blue & green – 16.5mm
The Moon. d20 – Marbleized swirl Alea Simplex sparkle dice – moon grey – a miniature 15mm
Mars – d8. Pearlescent one color Alea Simplex – red-orange – 16.5mm
Asteroid Belt – 3d6.  Marbleized swirl Alea Simplex dice – dark grey with asteroid d6 pips – miniature 12mm
Jupiter – d20.  Five-layer pearlescent Sui Generis dice – reds, browns, and beiges – 25mm (so perfect!)
Saturn – d12.  Three-layer Neutron dice to emulate the rings – galactic violet – 18.5mm
Uranus – d10.  Three-layer Supernova dice to emulate the rings – ocean and mint greens – 16.5mm
Neptune – d%.  Two-color Essence dice – watery blues – 16.5mm
and yes…
Pluto – d4.  One color semi-translucent pearlized Sui Generis – yellow (Because, yes, Pluto is still a planet. : ) – 22.5mm
Due to the size, weight, and necessity of additional security measures for the safety of the dice (thicker box, occasional padding), this item is not eligible for free shipping.
View full details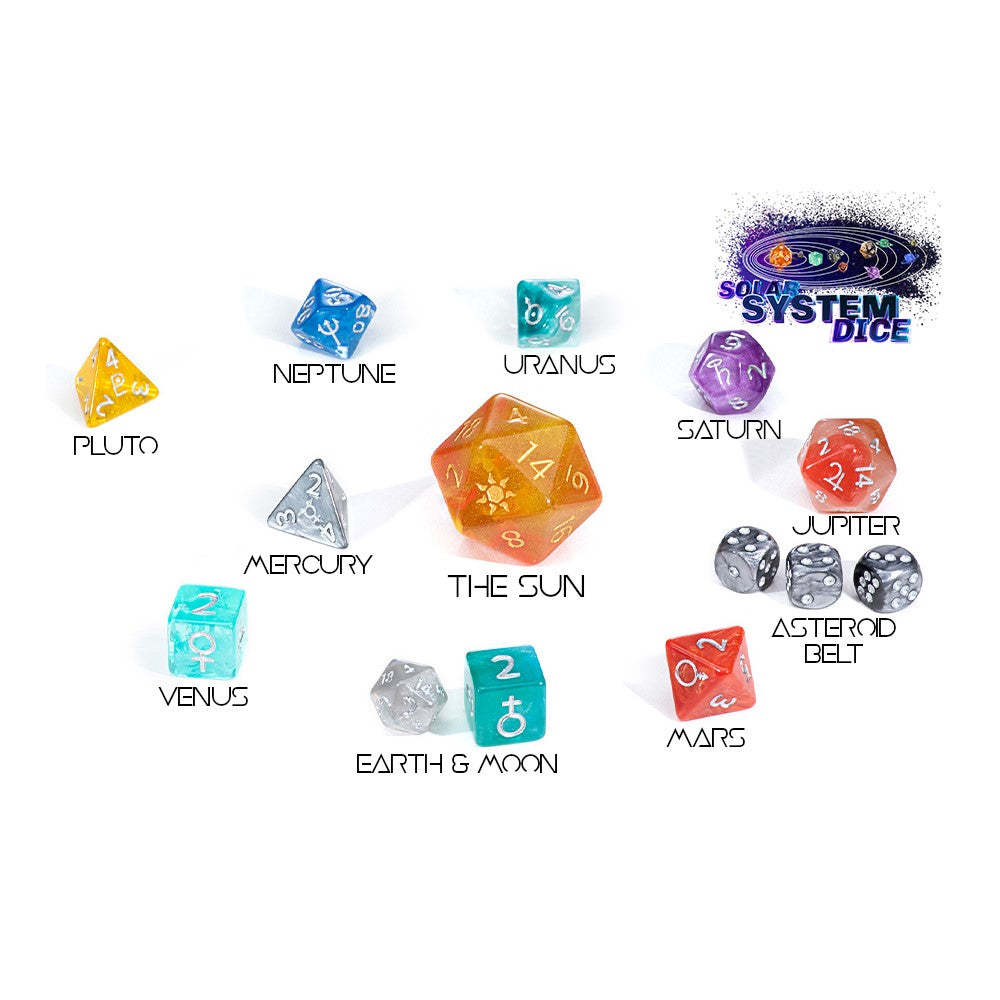 Recently Viewed
Regular price
Sale price
$45.00 USD
Unit price
per