Regular price
Sale price
$34.00 USD
Unit price
per
Sale
Out of Stock
Truth or Drink Extra Dirty
Original Truth or Drink too PG-rated for you? Looking to spice things up? The Extra Dirty expansion pack for Truth or Drink makes your game night a little more hardcore.
We cant even describe the questions to you here. This game is definitely not for the office party, but perfect for groups of friends--provided everyone is 18 or older!
ABOUT THE GAME: Over 400 NSFW questions that dare you to share your most private thoughts. Are you prepared to learn WAY more than you should about your friends? This game goes hard with all spicy & salacious topics. Get your favorite social lubricant ready and get ready to open up.
WHAT'S INCLUDED: 410 NSFW question cards + 6 blank (customizable) cards + 16 "Buy a Round" cards to shake up the gameplay!
HOW TO PLAY: The rules are simple. Draw a card and ask the question printed on it – either to one person, two people, or the whole group. Award the card as a point to the best answer. But the other players have a choice too: Either answer the question, or dodge the bullet by downing some liquid courage. To shake things up, playing a "Buy a Round" card makes EVERYONE have to answer any question! Get ready to bare it all!
PART OF THE FAMILY: Extra Dirty can be played by itself or shuffled together with the original ToD game. Ages 18+ | 2+ players | 30-60 minutes to play.
MADE BY CUT: Our games are based on our hit YouTube series with over 2.4 billion views (and counting!). Our goal is to bring people together, one awkward conversation at a time. Now it's your turn! Only a game stands between you and the ultimate truth. What do you have to hide?
View full details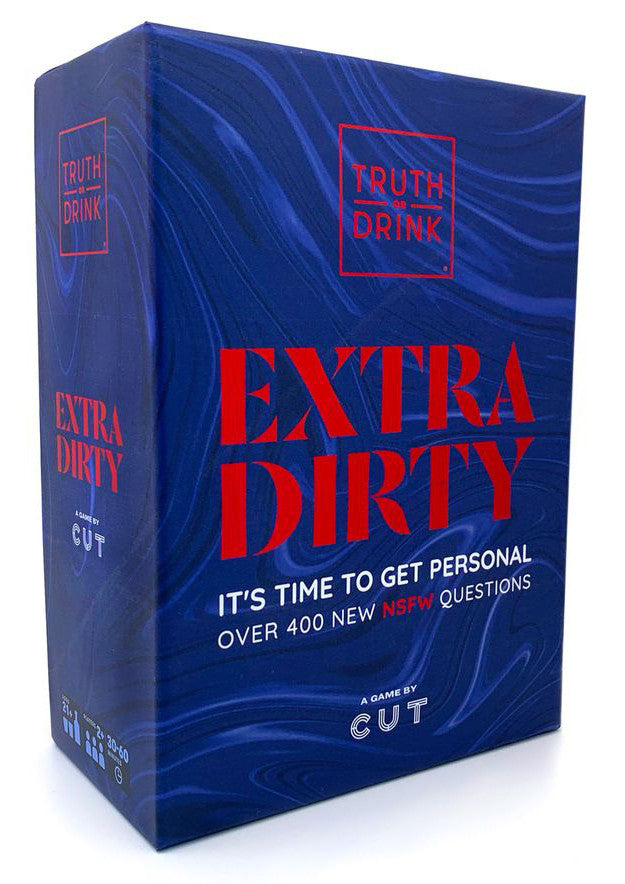 Recently Viewed
Regular price
Sale price
$34.00 USD
Unit price
per