Regular price
Sale price
$17.00 USD
Unit price
per
Sale
Out of Stock
Cheese Master
Cheese Master: The game of Musical Cheese!
Cheese Master is a familial game where dice will be thrown showing either Cheese pieces or animal faces. The Rule seems simple, just count how many cheese pieces are on the dice and be fast enough to vote on the right number.
The problem is, there might be a mice on a die meaning it has eaten a cheese piece so the count is now minus one. If there is a cat face though, it scares the mice so the count is back to original. Is a Dog face appearing? Ok then it scares the cat that does not scare the mice anymore so it still eats a cheese piece. Is there also a king of rats? Well this one never gets scared and always eats a piece of cheese.
Easy Right?
Cheese master is a frenetic speed game that will put your brain in a hard challenge of figuring out this animal situation as fast as you can. Indeed, the slowest of you all will not even be able to take its guess. You will all start with seven points, a wrong guess is minus two and a no-guess is minus one. Last player standing will be crowned the cheese master!
- A fast paced Speed Game
- Funny observation system
- Playable up to 8 players
View full details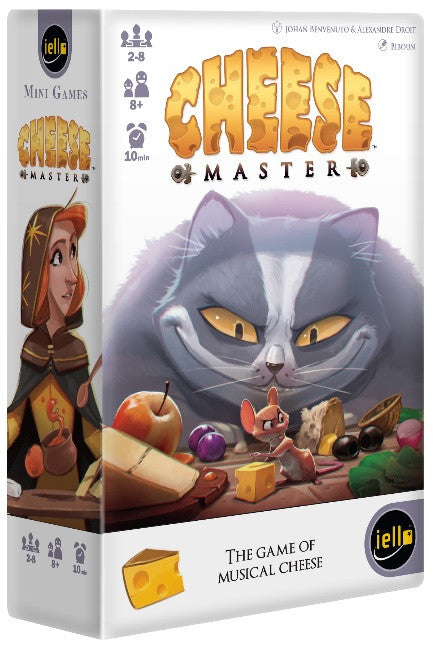 Recently Viewed
Regular price
Sale price
$17.00 USD
Unit price
per