Regular price
Sale price
$17.00 USD
Unit price
per
Sale
Out of Stock
Loki - Boastful Loki WonderCon 2022 Spring Convention Exclusive Pop! Vinyl
This item comes in a pop protector free of charge to ensure maximum protection.

"So, after I vanquished Captain America and Iron Man, I claimed my prize: all six Infinity Stones."
In the world of the Disney + Marvel series Loki, Loki Laufeyson, AKA Boastful Loki, is a variant of the original Loki and a minor antagonist portrayed by DeObia Oparei. Any real Marvel collector or true fan of the god of mischief will be excited to collect this new and exclusive Pop! Vinyl figure!

This Wonder Con 2022 Spring Convention exclusive Funko Pop! Vinyl is a must-have for any collection! Don't miss out on this highly detailed and collectible POP figure, exclusive to Funko's Wondrous Spring Convention for 2022.

Ozzie Collectables is a pop culture store located in Australia dedicated to bringing you the largest possible variety of mint condition and exclusive Comic Con shared convention stickered Funko Pop Vinyl figures. Add this to your collection today!

This exclusive Loki Pop! Vinyl from the WonderCon 2022 Spring Convention is a must-have for Marvel fans!
This Pop! Vinyl figure brings the God of Mischief, Loki, to life in a bold and boastful pose. He stands 3 3/4 inches tall and is presented in a window display box.
Loki is the adopted brother of Thor and the son of Laufey, King of the Frost Giants of Jotunheim. He is portrayed as a trickster who often causes mischief and chaos, but he is also known for his cunning intelligence and magical abilities. Loki is often seen wearing his signature green and gold costume and wielding his trademark staff.
This Pop! Vinyl figure features Loki in his classic costume and with his staff in hand. His face is detailed with a mischievous smirk, and his distinctive helmet is adorned with the horns of a wild ram.
This is the perfect collectible for any fan of the God of Mischief, and it's a must-have for any Marvel fan! Add this Loki Pop! Vinyl figure to your collection today!
View full details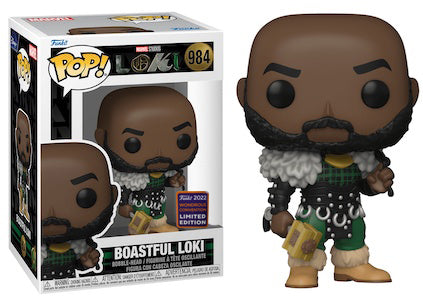 Recently Viewed
Regular price
Sale price
$17.00 USD
Unit price
per