Regular price
Sale price
$37.00 USD
Unit price
per
Sale
Out of Stock
ETA: Date TBA
Alone Against The Static is a modern-era scenario designed for one player. Players will choose to take on the role of either Alex or Charlie, and forge their own path through the story—player choices will decide their fate!
Alex and Charlie believe that a secluded weekend getaway in the Dakota Black Hills is just what they need to reinvigorate their marriage—but older and darker things than broken hearts exist in the forgotten places of the world.

    •    A 1990s Call of Cthulhu solo adventure—no Keeper is required to run this game.

    •    Players have a selection of two characters to play, both with their unique aspects, abilities, and effects on the story.

    •    The new Log Sheet mechanic tracks player choices, secrets they discover, and items they find that will have an effect on the plot.

    •    An all-new Cthulhu Mythos entity is detailed for use in full games of Call of Cthulhu, making this book appeal to a wide audience of Cthulhu fans and Mythos enthusiasts.

    •    Players require only a pencil, dice, and either a copy of the Call of Cthulhu Starter Set or Call of Cthulhu Keeper Rulebook to play.

Content Warning: Alone Against The Static explores themes of grief, isolation, relationships, and heartbreak. It is recommended for mature players.
View full details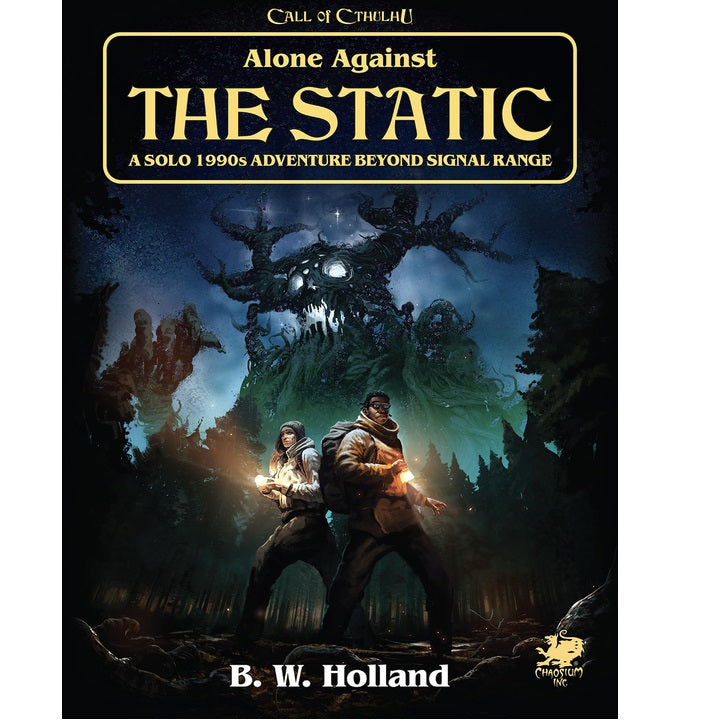 Recently Viewed
Regular price
Sale price
$37.00 USD
Unit price
per