Regular price
Sale price
$19.00 USD
Unit price
per
Sale
Out of Stock
[Weiss Schwarz] hololive production: hololive 4th Generation Trial Deck - English Trial Deck
The cards in these Trial Deck+ may be used together with cards which have their card number beginning with "HOL"!
This deck features hololive 4th Generation: Amane Kanata, Kiryu Coco, Tsunomaki Watame, Tokoyami Towa, & Himemori Luna

Product specifications
• Each deck contains one SR card, as well as one RRR or SP (Sign) card! Parallel cards are randomly sealed into decks!
•18 types of cards + 18 parallels
• 50 Cards per Deck, 6 Decks per Display
• Rules Sheet, Playmat, and Deck Manual included
• The contents of each deck (excluding parallel cards) are exactly the same
1 SR is guaranteed in each deck.
There is also a guaranteed RRR card or SP (Sign) card in each deck!
SIGN CARDSAmane Kanata
Kiryu Coco
Tsunomaki Watame
Tokoyami Towa
Himemori Luna
Parallel cards are randomly sealed into decks!
Every deck contains 1 SR + 1 RRR/SP!
Every deck you purchase is guaranteed to
contain one of the following!
[RRR] Rare cards with special embossing (12 types)
[SP] Sign card of talents (5 types)
\
View full details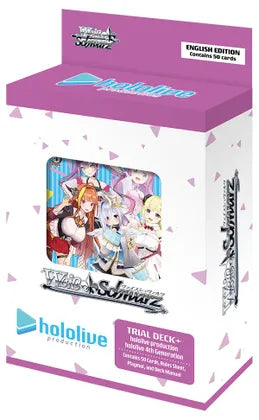 Recently Viewed
Regular price
Sale price
$19.00 USD
Unit price
per