Regular price
Sale price
$4.00 USD
Unit price
per
Sale
Out of Stock
Card Number / Rarity: 040/163 / Ultra Rare
Card Type / HP / Stage: Water / 210 / Basic
Card Text: Ability — Emperor's Eyes
As long as this Pokemon is in the Active Spot, your opponent's Basic Pokemon in play have no Abilities, except for Pokemon with a Rule Box (Pokemon V, Pokemon-GX, etc. have Rule Boxes).
Attack 1: [2W] Swirling Slice (130)
Move an Energy from this Pokemon to 1 of your Benched Pokemon.
Weakness / Resistance / Retreat Cost: Lx2 / None / 2
Artist: Ayaka Yoshida
TCGplayer Tip: Plucked from Battle Styles, Empoleon V blocks the Abilities of Basic Pokémon! Its Swirling Slice attack dishes out a solid 130 damage, and more importantly funnels energy to your benched Pokémon. Even if your opponent KOs Empoleon V, you'll be ready to go with a fresh 'mon from the bench!
SWSH05: Battle Styles Singles. Placeholder Image Provided. The item available is listed in the Title. The item may be similar but not exactly the same as the image (e.g. variation to centering, holofoil pattern or surface detail). Listed cards may have imperfections.
View full details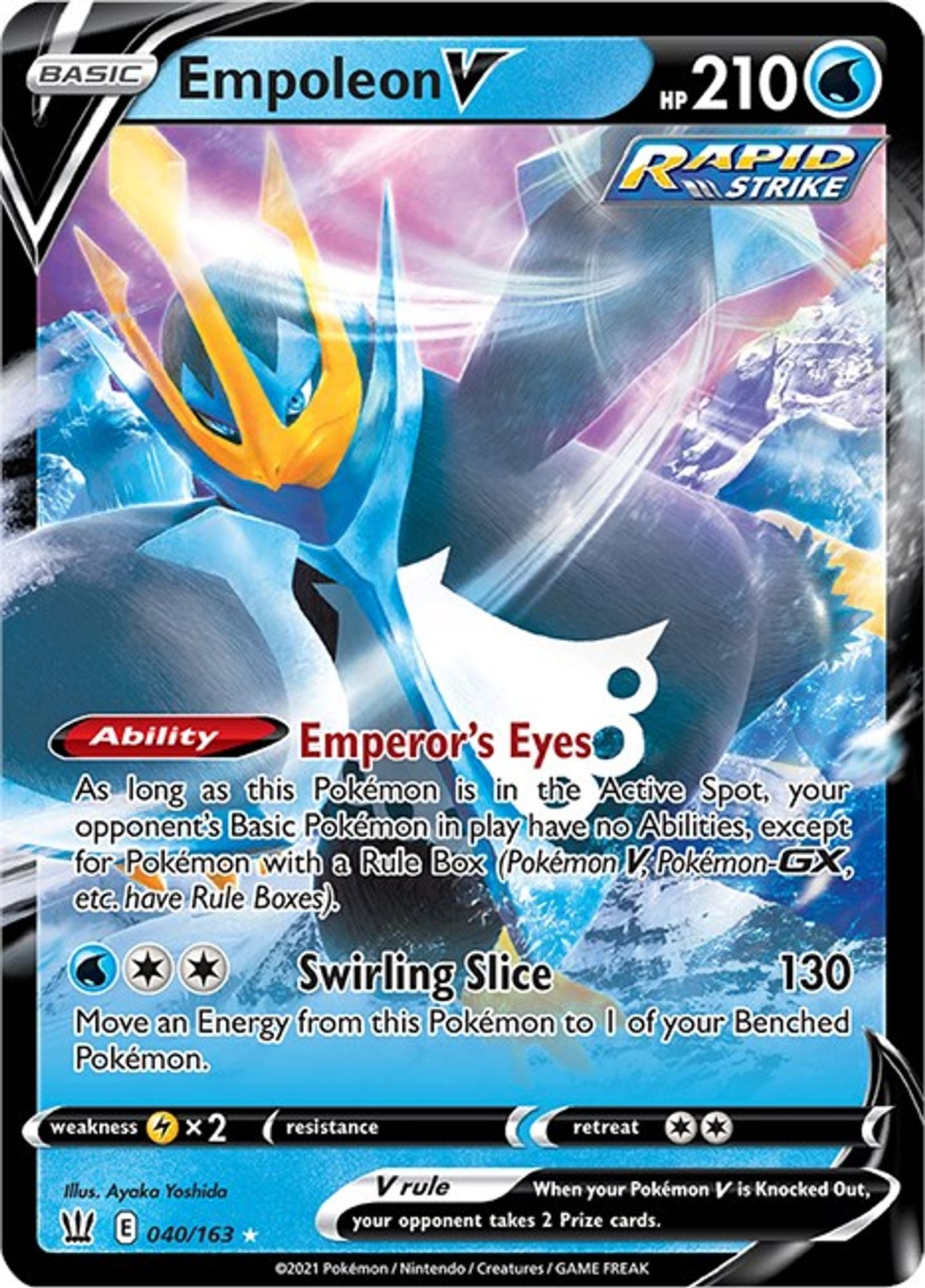 Recently Viewed
Regular price
Sale price
$4.00 USD
Unit price
per