Regular price
Sale price
$45.00 USD
Unit price
per
Sale
Out of Stock
Let the Force be your ally!
In this Monopoly: Star Wars Light Side Edition board game, players form as many Rebel alliances as they can to protect the galaxy from evil! The more alliances formed, the more credits a player can collect from other players. Use Yoda and The Force cards for guidance, but beware the power of the dark side! Land on a Ship space?
Jump to hyperspace and move to any Rebel hero between that Ship and the next one on the board. The last player with credits when all other players have lost theirs wins - and restores peace and justice to the galaxy! Add intergalactic fun to Family Game Night with the Monopoly: Star Wars Light Side Edition. This family board game also makes a great gift for Star Wars fans, Star Wars toy collectors, Monopoly game fans, and kids ages 8 and up.
Grab your copy today!
Includes:
Gameboard
6x Character tokens
6x Character cards
1x Plastic Yoda with base
16x Rebel Hero cards
13x The Dark Side cards
13x The Force cards
44x Plastic Jedi Starfighters
1x Die
98x Cardboard credits
Game guide
Features:
Star Wars Jedi-Themed Monopoly Game - This Monopoly: Star Wars Light Side Edition game celebrates the path of the Jedi with themes, artwork, and game components inspired by the Star Wars franchise
6 Zinc Character Tokens - Play as one of 6 Force-sensitive characters: Ahsoka Tano, Luke Skywalker, Mace Windu, Obi-Wan Kenobi, Rey Skywalker, or Anakin Skywalker 
Get Help from Master Yoda - Each character has a unique power. Passing GO allows players to take the plastic Yoda and place him with their token. Then they can activate the power listed on their character card
Form Rebel Alliances - Form alliances with Rebel heroes from across the galaxy, buy Jedi Starfighters, and collect credits! The player with credits when all others have lost theirs wins
Use the Power of The Force - The Force cards allow players to pair up with Yoda and collect credits, but the Dark Side cards force players to steal credits or send someone to Jail
View full details
Recently Viewed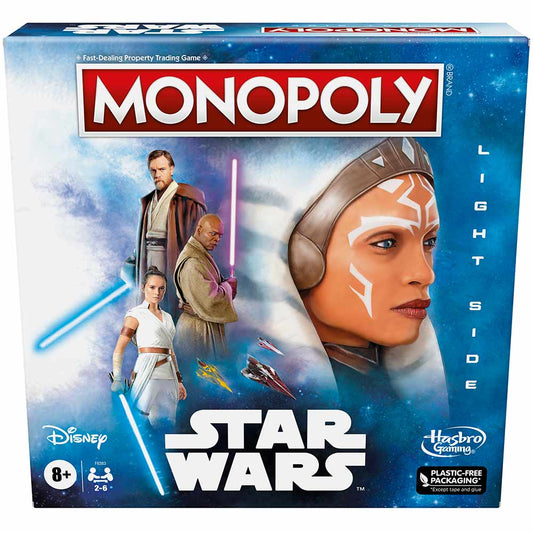 Regular price
Sale price
$45.00 USD
Unit price
per