Regular price
Sale price
$51.00 USD
Unit price
per
Sale
Out of Stock
Mother of Frankenstein Volume 1
A collaborative narrative puzzle game based on Mary Shelley, author of Frankenstein. 
1-6 Players  |  240-480 Mins  |  Ages 13+ 
Features: Cooperative Game, Storytelling
Themes: Age of Reason, Educational, Electronic, Horror, Medical
Description: 
Inspired (but not entirely beholden to) the incredible real life of Mary Shelley, Mother of Frankenstein is a 10-15 hour experience for 1-6 players (ages 13 and up), designed by Terry Pettigrew-Rolapp and Tommy Wallach of Hatch Escapes, creators of LA Magazine's top-ranked escape room, Lab Rat.
Mother of Frankenstein challenges you to solve a series of puzzles in order to learn the truth behind Shelley's infamous monster. While challenging enough for serious puzzlers, it also features a rich, emotional narrative composed by New York Times bestselling YA novelist Tommy Wallach, which will have you and your loved ones feeling all the feelings.
The game is divided up into three acts, each of which contains a trove of documents and puzzles, all of them beautifully crafted and cunningly designed--ostensibly by Mary Shelley herself--in order to reveal a great secret she left to her only surviving child. A bonus edition also includes a full copy of the 1818 edition of Frankenstein with additional puzzles from Emerald Flame creator Rita Orlov (PostCurious).
Over the course of the game, you'll also build a 500 piece 2D puzzle and a 350 piece 3D puzzle, ending up with a gorgeous recreation of Frankenstein's castle you can keep forever!
View full details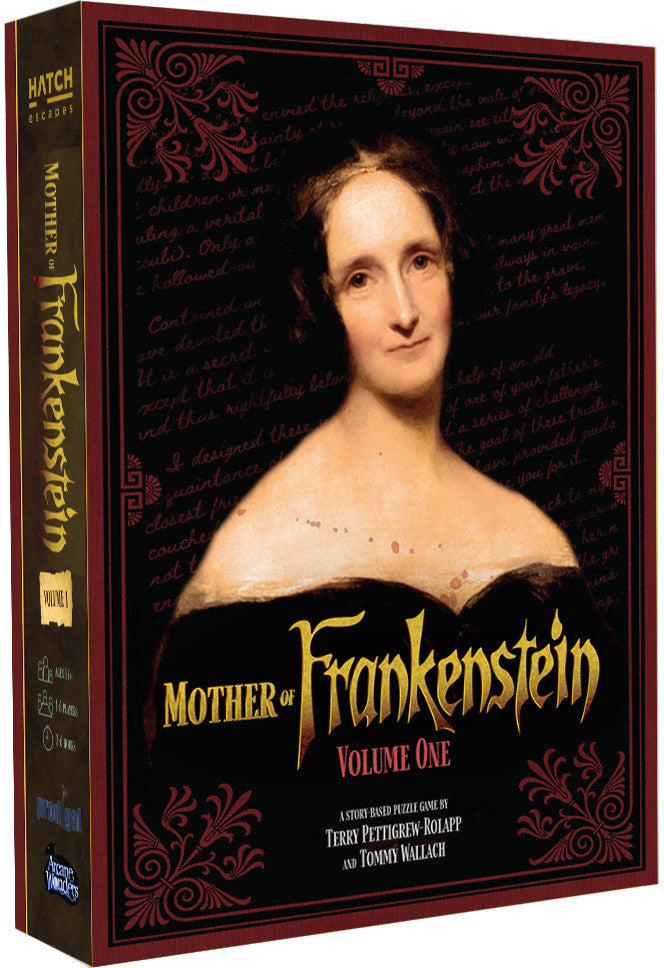 Recently Viewed
Regular price
Sale price
$51.00 USD
Unit price
per