Regular price
$714.00 USD
Regular price
$1,020.00 USD
Sale price
$714.00 USD
Unit price
per
Holiday Sale 30%
Out of Stock
Pokemon TCG Obsidian Flames Booster Box Case (x6 Booster Boxes)
The Pokémon TCG Obsidian Flames Booster Box Case is an exciting and highly sought-after collectible item for Pokémon Trading Card Game (TCG) enthusiasts. This meticulously crafted case contains a collection of booster boxes, each filled with a thrilling assortment of Pokémon TCG cards inspired by the fiery power of the Obsidian Flames.
Inside the case, trainers will discover multiple booster boxes, typically containing 36 packs each. Each booster pack holds the promise of uncovering rare and powerful Pokémon cards to enhance your TCG deck or add to your growing collection. The cards within the Obsidian Flames series feature stunning artwork showcasing Pokémon from various generations, captivating both long-time fans and newcomers alike.
The Obsidian Flames series centers around the theme of fire, highlighting Pokémon with fiery attributes, abilities, and attacks. Trainers can expect to encounter iconic Fire-type Pokémon such as Charizard, Blaziken, Arcanine, and many more. These cards come in a variety of rarities, including common, uncommon, rare, and ultra-rare, with the chance of finding elusive secret rare cards that are highly prized by collectors.
The Obsidian Flames Booster Box Case offers not only the thrill of opening booster packs but also the potential for strategic deck-building. The cards found within this collection can be used to construct powerful Fire-type decks, introducing new strategies and synergies to the game. Whether you're a competitive player seeking an edge in battles or a collector searching for rare gems, this booster box case provides ample opportunities to fulfill your Pokémon TCG desires.
Designed with both functionality and aesthetics in mind, the Obsidian Flames Booster Box Case features a sturdy and visually appealing packaging. The artwork on the case showcases the fiery theme, with vibrant colors and dynamic illustrations, making it an impressive addition to any Pokémon TCG collection display.
The Pokémon TCG Obsidian Flames Booster Box Case is a must-have for Pokémon fans, collectors, and players who are eager to dive into the exciting world of the TCG. Unleash the power of the flames, ignite your passion for Pokémon, and embark on thrilling battles with this exceptional booster box case.
This is a sealed case of 6 Booster Boxes. 
View full details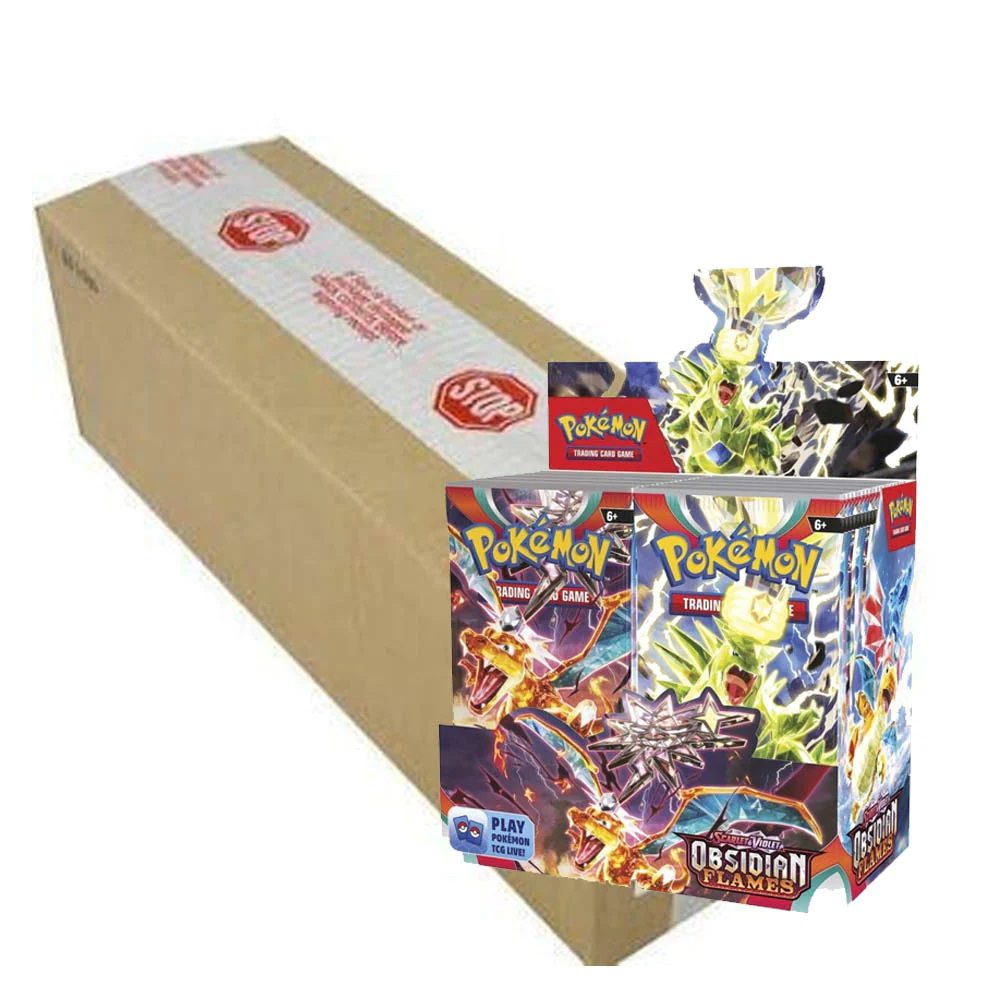 Recently Viewed
Regular price
$714.00 USD
Regular price
$1,020.00 USD
Sale price
$714.00 USD
Unit price
per