Regular price
$103.00 USD
Regular price
Sale price
$103.00 USD
Unit price
per
Sale
Out of Stock
DC Universe - Reverse Flash [Reissue] Heroes Pop! Vinyl #39
Box Condition - 7
Get ready to delve into the world of DC Comics with the thrilling DC Universe - Reverse Flash [Reissue] Heroes Pop! Vinyl #39. This highly anticipated reissue of a beloved character from the DC Universe is here to add a touch of darkness and intrigue to your collection.
Capturing the essence of the Reverse Flash, this Pop! Vinyl figure showcases the sinister speedster in all his malevolent glory. Clad in his iconic yellow and black costume, complete with the lightning bolt symbol on his chest and sleek, streamlined design, Reverse Flash exudes a sense of power and menace.
The attention to detail on this Pop! Vinyl is exceptional. From the fierce expression on his face to the intricately sculpted lightning bolts on his suit, every aspect of Reverse Flash's appearance has been faithfully recreated, ensuring that fans of the character will be delighted with this collectible.
As part of the Heroes series by Funko, this figure stands approximately 3.75 inches tall, making it the perfect size to display alongside your other favorite DC Comics characters. Whether you're a dedicated collector or a fan of the Flash's rogues gallery, this reissue of Reverse Flash is a must-have addition to your Pop! Vinyl collection.
The reissue of Reverse Flash brings an exciting opportunity for collectors who may have missed out on the initial release or are looking to complete their DC Universe lineup. With its vibrant colors, impeccable design, and unmistakable presence, this Pop! Vinyl figure is sure to stand out among your collection and become a centerpiece for conversation and admiration.
Embrace the darker side of the DC Universe and add a dash of villainous flair to your collection with the DC Universe - Reverse Flash [Reissue] Heroes Pop! Vinyl #39. It's a thrilling tribute to one of the Flash's most formidable adversaries and a perfect addition to any DC Comics enthusiast's display.
View full details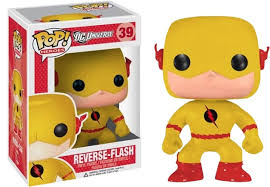 Recently Viewed
Regular price
$103.00 USD
Regular price
Sale price
$103.00 USD
Unit price
per