Regular price
Sale price
$26.00 USD
Unit price
per
Sale
Out of Stock
Star Wars - R5-D4 Smuggler's Bounty Exclusive Pop! Vinyl #180
Please note: this item is sold individually and does not come with the collector's box. 
"Thank you, friend. You may have saved the galaxy today. I will never forget you."

R5-D4, AKA Red as dubbed by Luke Skywalker, is a droid who malfunctions himself on purpose to assist R2-D2 after a group of Jawas attempt to sell him to Owen Lars on Tatooine. This exclusive Funko figure was originally released exclusive to Funko's Smuggler's Bounty subscription box and depicts the character in his classic white astromech droid design with red and blue stripes.

This sought after figure can no longer be bought on its own from Funko, and the original subscription service has since been discontinued, making this POP!, with its Smuggler's Bounty sticker, a rare grail worth adding to your Star Wars collection.

Ozzie Collectables is a pop culture store located in Australia dedicated to bringing you the largest possible variety of mint condition and exclusive Funko Pop Vinyl figures. Add this to your collection today!

This Star Wars - R5-D4 Smuggler's Bounty Exclusive Pop! Vinyl #180 is a must-have for any fan of the beloved franchise! This Pop! Vinyl figure stands 3.75 inches tall and is the perfect addition to any collection.
R5-D4 is a red astromech droid that first appeared in the 1977 film Star Wars. He was initially chosen by Luke Skywalker to purchase from the Jawas, but malfunctioned and was replaced by R2-D2. Despite his brief appearance, R5-D4 has become a fan favorite due to his heroic sacrifice.
This exclusive Pop! Vinyl features R5-D4 in his classic red and white colors. He is posed in a standing position with his head tilted to the side, as if he is looking around for trouble. His head and legs are moveable, allowing you to recreate your favorite scenes from the movie. The detail is incredible, right down to the rust-colored panels on his body and the blue eye lens.
This Pop! Vinyl is a must-have for any Star Wars fan, and is sure to be a conversation starter in any collection. Add this exclusive Pop! Vinyl to your collection today and remember the heroic sacrifice of R5-D4!
View full details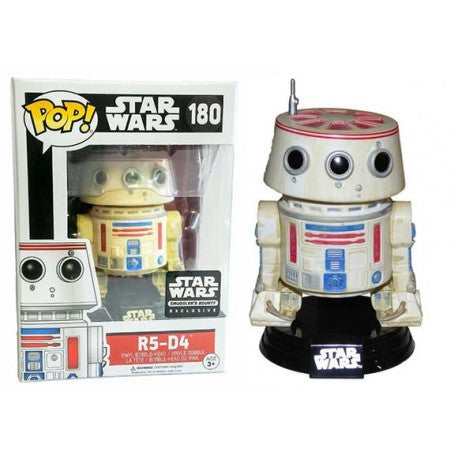 Recently Viewed
Regular price
Sale price
$26.00 USD
Unit price
per