Regular price
$204.00 USD
Regular price
Sale price
$204.00 USD
Unit price
per
Sale
Out of Stock
Transformers railroad theme commercialized!
"Trainbot Seizan", which was active in the TV anime "Transformers: The Headmasters", is now available in the new series "MPG"!
"MPG" is an abbreviation for Masterpiece G. G which means GATTAI (union), GIANT, and GREAT.
The fifth from the new Transformers series "MPG", the "L Limited Express L485-300 series" is completely transformed into a robot! As it is a full-possible specification, you can enjoy reproducing the poses in the play. You can enjoy the display on the attached rail.
Also the weapon Brain Laser, Light Sword for Leiden, & Leiden Cannon (2) are included too. In addition, it is a triple change specification, and it can be transformed into the right arm of "Leiden"! Part of it can be separated to become a leg beam and attached to Leiden's right leg. You can complete "Leiden" by combining it with Trainbot Shouki, Trainbot Getsui (already released) and other 4 types of trainbots (Trainbot Yukikaze, Trainbot Shuiken, Trainbot Seizan, Trainbot Kaen (that will be released in the coming future).
Brand: Hasbro
Release Date: 1 Nov 2023
Product Type: Collectibles
Sub Category: Action Figures
Series: Transformers
Expansion: No
Exclusive: No
Age: 3+
View full details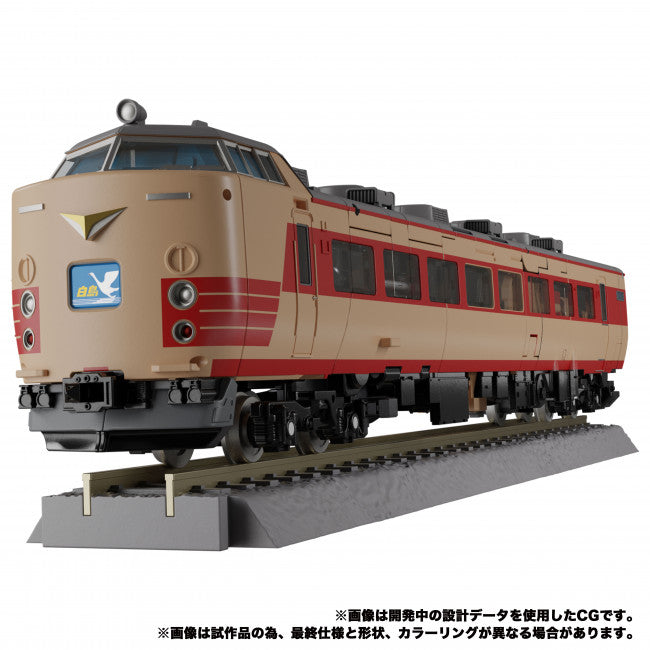 Recently Viewed
Regular price
$204.00 USD
Regular price
Sale price
$204.00 USD
Unit price
per