Regular price
Sale price
$31.00 USD
Unit price
per
Sale
Out of Stock
ETA: 2023-12-14 00:00:00
Snap together the King of Lizards with this ferocious Tyrannosaurus Rex puzzle. Possessing jaws that produced three times more bite force than a lion, these therapods from the Cretaceous period could tear off meat from their prey or chomp limbs, bones and all. Tyrannosaurs hunted with depth perception made possible by forward-facing eyes and counterbalancing tails which allowed them to sprint towards fleeing plant-eaters. 
Features:
Dinosaur Floor Puzzle: Sized at 4ft long, this large floor puzzle features stunning artwork of a beautiful behemoth, providing an immersive and captivating experience for kids of all ages. Ideal for dinosaur enthusiasts, puzzle lovers, and educational playtime.

Glow-in-the-Dark Skeleton: Flip the puzzles over to reveal scientifically accurate glow-in-the-dark reconstructions of dinosaur skeletons, adding a thrilling element to the puzzle-solving adventure. Perfect for sparking curiosity, interactive learning, and sensory exploration.

Educational Fun with Science Guides: Kindle curiosity and knowledge with included Science Guides, offering information about paleontology, ancient creatures, and fascinating fun facts. Enhance STEM learning, cognitive skills, and critical thinking while exploring the world of dinosaurs.

Safe and Well-Processed: Puzzle corners are carefully crafted to ensure safety, with no sharp edges, making it suitable for young children to play with and enjoy. Child-friendly materials, non-toxic, and durable construction for worry-free playtime.

Perfect Gift for Kids: These puzzles not only provide entertainment but also support skill development such as concentration, problem-solving, and creativity.
Turn N Learn - 100 Piece Tyrannosaurus Rex Floor Puzzle for Kids!
Includes an Anatomy Reference Guide
100% Accurate | Double Sided | Glow in the Dark
View full details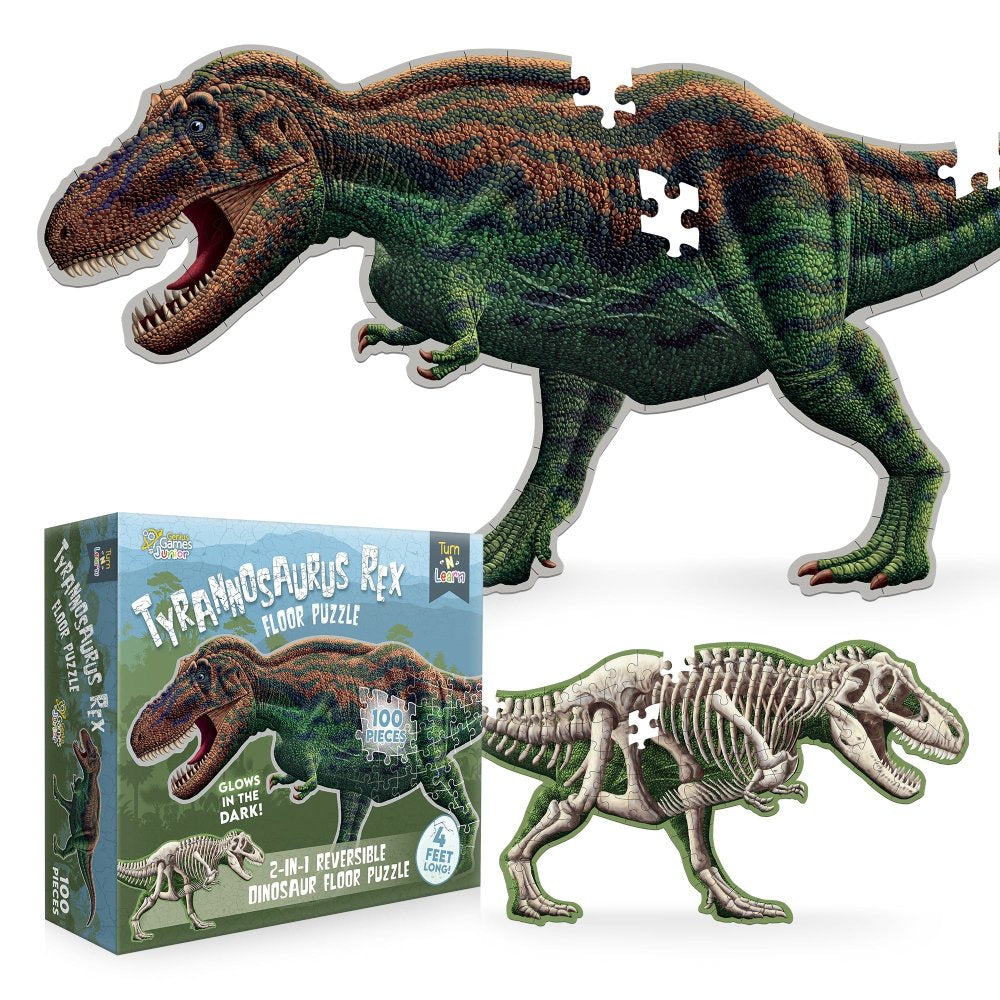 Recently Viewed
Regular price
Sale price
$31.00 USD
Unit price
per